On assignment in Virginia…  rising to the challenge of shooting heritage farm animals and loving the experience!
I had the pleasure of meeting the owners of Chapel Hills Farm,  Joe Henderson and his lovely wife Lucia, I learned all about the versatile Randall Lineback cow and how it virtually saved our country from becoming a British colony… and  I was served sweet tea by "Sweet Ryleigh", the ranch manager's daughter.
With the hospitality and magic of the south pulsing in my veins, I realized I have quite a way with animals…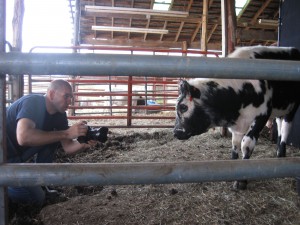 "this is what i would like for you to do…"
After an unfortunate "splatter incident" Lucia and Joe invited us to join them for wine and apps while a load of laundry was done… I am forever indebted to them!